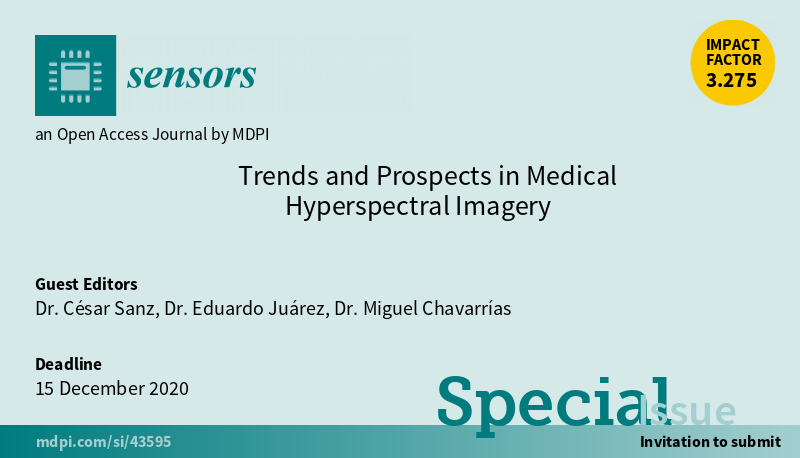 Hyperspectral Imaging (HSI) is a technology to identify and estimate the distribution of materials within a captured scene based on the measured surface reflectance at each spectral band. Although initially aimed at remote sensing applications, there is a growing research interest to perform in-vivo HSI processing during surgeries to help discerning between cancerous and healthy tissues and locating tumor margins. Outstanding camera size reduction in recent years makes Hyperspectral Camera Arrays (HCA) a possibility that could bring the advantages of Immersive HSI to hospitals.
The promotion of personalized medicine in health care should leverage on the availability of appropriate decision support tools based on the integration of available, e.g. MRI, IOUS, or emerging, e.g. HSI, diagnostic means. Contributions from several fields such as Artificial Intelligence (AI), Neurosurgery, Electronic and Computer Engineering, Pathology, 3D Graphics, Biooptics and Data Science, among others, are required to develop, from a multidisciplinary perspective, easy to use solutions which lead to better diagnostic accuracy and increased treatment effectiveness.
This Special Session will introduce to the community results and applications of the Hyperspectral Imaging field onto the medical research. The goal is to provide beyond state-of-the-art solutions to the challenge of building decision support tools for personalized medicine. Therefore, contributions such as integration of HSI with MRI or IOUS, real-time mapping of brain tumors, intraoperative immersive classification, bio-inspired classification algorithms, in-vitro and ex-vivo HSI analysis from resected samples or high-performance real-time HSI processing platform implementations, among others, are expected.
Deadline for manuscript submissions: 15 December 2020.
+ info: https://www.mdpi.com/journal/sensors/special_issues/MEDICAL_REMOTE_SENSING